Candyfloss Machine Hire
Why not make your event,  extra special with our Candy Floss hire service? We will come to you and serve unlimited amounts of candy floss to all your guests. We can make the candy floss in the ever popular pink or match it with the colour scheme of your event. Strawberry Pink, Vanilla Pink, Cherry Red, Blueberry Blue, Orange, Lemon Yellow, Banana Yellow and Apple Floss Candy Floss . floss sticks, bags, floss sugar, flossine and more
OPEN FOR CALLS 7 Days 0845 309 6369 / 07876755357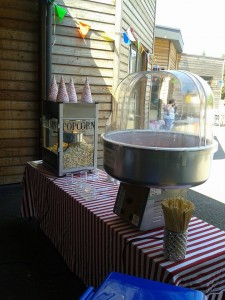 This Video us making candyfloss with a professional machine. For event we can make candy floss every 7 seconds
Candy floss is made by pouring sugar into a machine which can be supply freshly made treats.
Do you have a event ? Well we can make the candy floss for you All our packages include the Candyfloss machine hire, fairy floss sugar and sticks. candy floss machine hire with attendant
This slideshow requires JavaScript.
Why not hire a Candyfloss machine for your event?
You can choose from a range of flavours/colours for your
candy floss flavours:
Vanilla (pink) candy floss
Cherry (pink) candy floss
Raspberry (pink) candy floss
Bluebberry (blue) candy floss
 Just let us know beforehand which flavour you would like.
  Candy Floss Hire Surrey, Dorset, Hampshire
Hire services supplier for all kinds of events including: Bar and Bat Mitzvahs, Weddings, Birthdays, Corporate Events, Exhibitions, Garden parties, Fetes, Fundraising Events,
  Candy Floss Hire Surrey and London Hampshire Dorset
Candy floss Machine Hire Surrey, Candy floss Machine Hire Hampshire  Rental Packages Available Candy Floss Machine London
candy floss machine hire for weddings and outside events
candy floss cart, candy floss machine Surrey, candy floss trolley hire, candyfloss trolley Hampshire, cotton candy, cotton candy floss maker, exhibition, hire a candy floss machine, rent a candy floss machine is Surrey or Hampshire, candy floss machines hire London
Candy Floss machine hire, also know as cotton candy and candy floss hire, is available through the party group. We have a selection of five packages available to suit different guest size requirements. We can also cater to large events like fairs, festivals or fetes, just let us know how maybe at your event.  commercial grade Candy floss machines; we are able to cater for large weddings and events
Candy Floss machine hire,  Candy Floss machine hire Dorset, Candy Floss machine hire wedding, Candy Floss cart hire London, Candy Floss maker hire London, Candy floss Surrey Hampshire Candy Floss hire  Dorset London